Today, I joined my fellow Republicans on the floor of the House to continue our call for Speaker Pelosi to return Congress to work to vote on comprehensive energy reform.




Congress has had more than enough opportunities to consider energy legislation to cut our nation's rising gas prices. But, instead of acting, Speaker Pelosi and Democrat leadership ignored the cries of the American people and went on vacation.

Yesterday, I met with Lake Elmo firefighters to talk about how the energy crisis is impacting their ability to serve as first responders. And speaking with drivers yesterday filling up their cars in Stillwater, it is clear that Minnesotans are frustrated with Congress' inaction on this issue. The high cost of gasoline is destroying local budgets and family budgets alike.

How long do the American people have to struggle before Speaker Pelosi takes notice?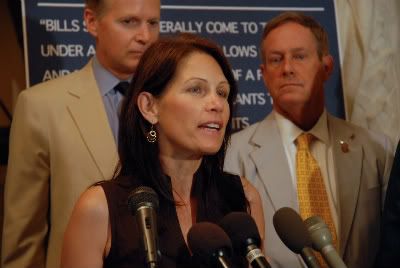 My Republican colleagues and I will continue to work in Congress and throughout August recess to see that families all across the nation get the help they need. Supporting the Republican solution for an All-of-the Above energy strategy is critical to help Minnesotans get back on their feet.