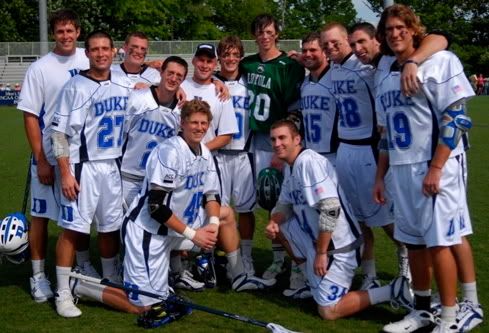 Colin Finnerty, center in green, poses with former teammates after scoring three goals on Duke in a NCAA tournament game at Duke's home field. (Photo courtesy of the

Duke Men's Lacrosse Parents Group

)





Colin Finnerty, one of the three Duke lacrosse players falsely accused of rape in 2006, returned to Duke's lacrosse field this weekend-- in a Loyola jersey.

The Garden City, N.Y. attackman scored three goals in what was his first appearance on the field since his 2006 season at Duke was abruptly canceled after eight games and his coach resigned after false accusations of rape and assault were brought against team members.

Loyola fell to Duke, 12-7, but Finnerty's hat trick got generous applause from the home crowd:

He scored three goals, receiving a hearty ovation from the home fans after each one.

"It was a great feeling to be back with the playoff atmosphere," Finnerty said. "It felt great to be scoring. I was happy to be stepping up for my team.

"It was a lot of emotion with the fans from Duke supporting me. I'm not surprised by their character."

After the game, Finnerty posed with several of his former teammates for a photograph near midfield.

"They're great guys, all of them," he said. "There's nothing but good vibes between us."

Said Toomey: "I hope it's a little bit of closure coming down here. I think there's a piece of his heart that's still at Duke."

Duke defenseman Tony McDevitt said his teammates have special feelings toward Finnerty.

"He played awesome," McDevitt said. "We would like him to not score so much."
The Duke team, which is top-ranked and top-seeded in the NCAA lacrosse tournament this year, will meet Ohio State in the quarterfinals this weekend, and is heavily favored to win the whole thing. Finnerty and fellow accused teammate Reade Seligman were invited back to Duke in good standing after the disastrous Duke lacrosse had finally ended. They both declined. Seligman transfered to Brown Univeristy, and Duke lost four blue-chip recruits as the program was rocked by former Durham D.A. Mike Nifong's dereliction.

This year, five players returned as fifth-year seniors after being granted an extra year of eligibility by the NCAA. The ruling is a rarity from the strict governing body of collegiate sports, but Duke associate athletic director Chris Kennedy felt compelled to make "an extraordinary request for an extraordinary situation," and it was granted.

All five fifth-year seniors are elite players, led by Danowski's son, Matt, who won the Tewaaraton Trophy last year as the best men's player in college lacrosse. He is a finalist again this season, leading Division I with 84 points (36 goals, 48 assists). He is also only 3 points from tying the N.C.A.A.'s career record of 343.

Along with Danowski, the Blue Devils have two defensemen, McDevitt and Nick O'Hara, who were preseason first-team all-Americans. They join midfielder Michael Ward, a preseason second-team all-American, and goalie Dan Loftus, a preseason third-team all-American, as the fifth-year seniors who make the Blue Devils one of the most productive teams ever.

"They're the best team out there, I don't think there's any question about that," Starsia said. "I don't mean to discredit anyone else. They're the best team in the field, and part of it is certainly because of their unusual experience."
For second-year coach John Danowski, who took over for Mike Presler when he resigned, this year is a bit smoother than his first, during which the team was still plagued by Nifong news coverage and even threats.

It's gratifying to see them succeed. If only there were as much coverage of Colin Finnerty's hat trick and the Duke's lacrosse team's class in cheering a former teammate as there had been of the lies told about them all in 2006.

Good luck, boys. Bring home the title.

Update: A little trip down memory lane with my Tour of Things that Didn't Happen in Durham: