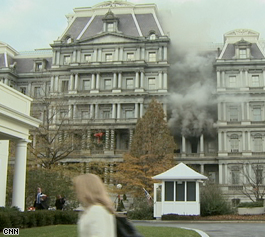 Well, this doesn't look good. No details yet. This building is next door to the White House, and one of the prettiest buildings in Washington. Also called the Eisenhower Executive Office Building, and affectionately called the "Ike" by President Bush.

More:

Video showed firefighters breaking a window and spraying flames with a hose.

The building, built between 1871 and 1888, is located across a driveway from the White House and houses the vice president's offices.

Also called the Old Executive Office Building, it was originally built for the State, War and Navy Departments and is an example of the French Second Empire style of architecture, according to a government Web site.
Update: On Fox, it looks like the fire's under control. They're reporting the fire broke out next to the VP's ceremonial office.

Update: Cue the Democratic Underground conspiracy theory about "document destruction."

Update: It's out with only one hand laceration to one fireman, thank goodness.