This month marks the 40th anniversary of Roe v. Wade and this is the cover of TIME Magazine: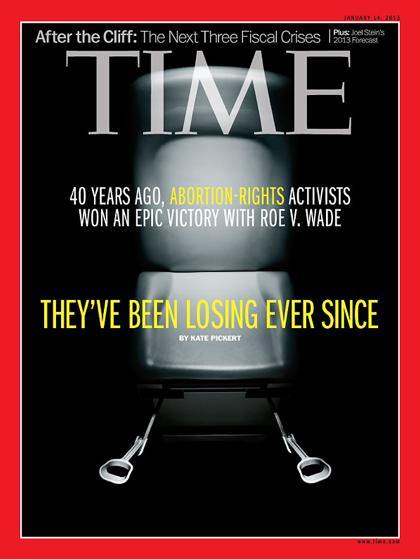 With this photo, TIME pretty much just made a pro-life argument. Simply seeing what an abortion table looks like is enough to save a few unborn children. The photo above clearly shows abortion isn't a simple procedure, but rather a full blown medical surgery resulting in one less human heartbeat on earth.
As Steve Ertelt over at LifeNews points out, TIME makes a pro-abortion argument in the cover article but also give the pro-life Susan B. Anthony List a voice too.
The article makes the pro-abortion case that, while abortion is still legal, it is increasingly difficult to access thanks to the closing of so many abortion clinics and pro-life laws that help women by giving them additional information and alternatives.

The magazine also contains an article from Emily Buchanan of the pro-life women's group Susan B. Anthony List that rebuts what has become the modern talking point for Planned Parenthood and other abortion defenders — that abortion is about protecting women's health.
Meanwhile, outgoing NARAL President Nancy Keenan has been complaining about a lack of pro-abortion enthusiasm from younger generations.
Nancy Keenan, the president of the pro-abortion group NARAL is quitting her position, saying she needs to be replaced by someone younger. The pro-abortion activist lamented the lack of young pro-abortion stalwarts in the movement.

Keenan originally made her decision in May, and the chairs of the boards of directors of NARAL and its legislative arm announced she had chosen not to renew her contract , which expires at the end of December. Keenan, who took the reins of the organization in December 2004, will continue heading up the organization's political action arm until a replacement is found.

"Part of my decision was that, at 40, you have the opportunity to engage a new generation, the Millenials, because they are so huge, and that the person at the helm of this organization could reflect that youth and a younger generation," Keenan said in an interview with The Hill. "Because now the responsibility lies with these next generations to be vigilant."

She admitted younger Americans are not as energized about promoting abortion.

"This isn't on the top of their list of issues that they're concerned about right now," she said. "And so we have to close that intensity gap, we have to make the case for the importance of the vigilance around this issue."
Considering nearly 55,000,000 babies have been aborted since Roe v. Wade, I wouldn't say pro-abortion activists have been losing as TIME suggests, however I do believe pro-life activists have been making significant progress throughout the years to expose the horrors of the procedure and to promote the precious gift of life.