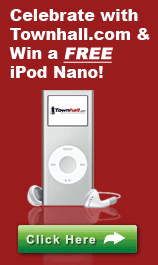 June marks a couple of milestones for Townhall.com. First, it marks our 12th year on the web. From the humble beginnings of plain text and grey backgrounds to our current position as the leading conservative site for news, opinion, debate, and talk radio, its been an exciting ride. None of it would have been possible without the loyal support of our readers over the years. Thank you.
This month also marks a year of launching our newest arsenal in the fight for free markets, limited government, traditional values, and a strong national defense -- Townhall.com Podcasting. With talk radio hosts Bill Bennett, Mike Gallagher, Michael Medved, Dennis Prager, and Hugh Hewitt along with Townhall.com radio partners Young Americas Foundation, Jay Sekulow, The National Defense, Breakpoint, The Taxpayers League, and the Northern Alliance, Townhall.com is the place for conservative talk.
To celebrate a year of conservative podcasts Townhall.com is giving away FREE iPod Nanos every day in June! That's right, you have a chance to win 24/7 during the month of June.
Now you can carry Townhall.com with you wherever you go.
To win, fill in this entry form. Each day we will randomly select one registrant from that day. Winners will be notified daily and listed on this site. If you didn't win one day, come back the next and sign up again for another chance to win!
Thank you and Good Luck!