September 21, 2017
Photo: Brown Removes Shirt, But Will he Throw His Hat in the Ring?"
Daniel Doherty
2/3/2014 4:40:00 PM - Daniel Doherty
Curiously, an ex-U.S. Senator from Massachusetts widely rumored to be weighing a U.S. Senate campaign in New Hampshire somehow found himself half-naked on the front cover of the state's largest newspaper today. Coincidence? I think not.
From The Fix: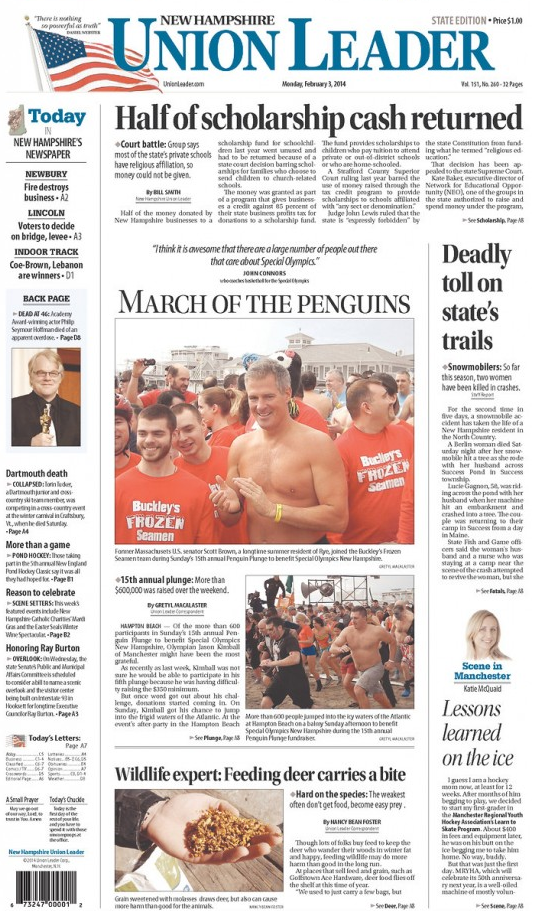 Mr. Brown, according to the caption, was in New Hampshire raising money and awareness for the Special Olympics by participating in the "Penguin Plunge." But isn't it rather strange he found a way to give back to that community by posing in pictures afterwards…without his shirt on? Of course, as a former Washington lawmaker and local celebrity in the region, he brings a certain amount of publicity to these charitable events merely by showing up. And that's a good thing. But as an undeclared candidate now tied in the polls with the incumbent senior Senator from New Hampshire, this doesn't appear to be a mere "accident." This is, after all, the same newspaper that endorsed Newt Gingrich for president in 2011. Now, it seems, they're urging him to take a different kind of plunge.