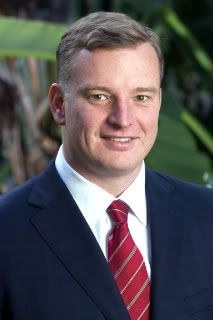 I was happy to get an email from Jeff Ostermayer yesterday. I had met him while he was working at DHS for Secretary Michael Cherftoff and he wrote to let me know he had moved to Florida to work on Republican Tom Rooney's campaign to win Florida's 16th seat from a Pelosi Democrat.

Rooney's opponent, Tim Mahoney, postures as a Blue Dog Democrat but votes with the anti-war crowd on Capitol Hill and for the pork-bloated Democratic spending items says Ostermayer. "He's pretending to be conservative down here in a very conservative area," he told me over the phone yesterday evening.

The House Conservatives Fund and RedState recently endorsed Rooney and Ostermayer believes their candidate will be very competitive in November.

"He's a veteran, he's active in charitable causes in his community, and he's rock solid," RedState editor Erick Erickson emailed me.

As you may remember, Florida's 16th was Mark Foley's old seat. I asked if there is any negative GOP fallout in the district because of Foley's scandal "People don't talk about him down here," Ostermayer said.


I encourage you to get to know a little bit about Rooney HERE. He's a former Army Captain who taught constitutional law at West Point, served in the Army JAG Corps and was appointed criminal prosecutor by Governor Charlie Crist. He also is very involved with an orphanage called Home Safe.