From Headquarters, Fifth Fleet
Manama, Bahrain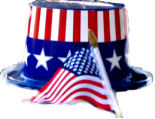 This is being written on the Fourth of July having visited with a few of the officers and sailors at the US Naval Base here.
The Fifth Fleet is the seaborne component of the US Navy's Central Command operations. NavCent is, in turn, a component of Central Command out of Tampa, Florida.
According to its website, NavCent's area of responsibility
"encompasses about 7.5 million square miles, includes the Arabian Gulf, Red Sea, Gulf of Oman, parts of the Indian Ocean, [and] 27 countries…"
It is headquartered in Bahrain and has been for nearly 60 years meaning Bahrain is home port to some 20,000 officers and sailors patrolling the region at sea and an additional 3,000 ashore.
On this Fourth of July it was nearly a normal workday with the exception of some picnic-like activities put on by the base.
Two young sailors were having hotdogs, beans, and potato salad in the outdoor recreation area. Keane Maddock, of Liberty, PA and his buddy Royal Fulkerson of Frankfort, IN were on shore leave from their amphibious assault ship, the USS Trenton.
Maddock is a Seaman (an E-3 for those keeping score at home). Fulkerson is a Boatswain's Mate, Third Class (E-4). I asked Fulkerson why he joined the Navy. "To see the world, I guess," he said, without any sense of irony.
Neither young man is planning to make the Navy a career. Maddock is going to school to become a Pharmacist's Mate and wants to pursue a career in medicine when he gets out.
Fulkerson is leaving the Navy in January and has already made plans to attend college in Pennsylvania to major in criminal justice. Not to be a cop, but to be a juvenile probation officer, helping, he said, "kids to get back on the right track."
They're 21.
On the other side of the career ledger are Command Master Chief, Gerald Provancha, a 28-year veteran of the US Navy and the senior enlisted man on the base, and Captain Mark Deardurff, the base commander, who is coming up on his 26th year in the service.
I chatted with them about how they help their charges get through days like July 4th which, for many of them, was full of nothing more crucial than barbeque and fireworks in their family's backyard just a few years ago.
CMC Provancha said that the Navy had instituted a mentoring program some years go to help - especially the younger sailors - over the rough spots so holidays away from home were handled through that informal, but precise program.
Among the 42 medals and awards the two men share are: One Bronze Star, 12 Commendation Medals, Seven Sea Service Medals, three Achievement Medals, and two Meritorious Service Medals.
They also share the responsibility for a bunch of dedicated military personnel, far from home.
I wandered around the base for a while in the company of the Deputy Public Affairs Officer, Lt. Cdr. Charlie Brown, then went back into town.
Later that evening, I attended the official celebration of America's birthday which was put on by the US Embassy.
Many of the diplomatic corps and much of senior Bahraini officialdom was there, as were many of the Embassy staff I have met over the years.
Here is how you can tell the difference between an event at a Navy base and an event in a hotel ballroom: At the Navy base there was typical American Fourth of July Food. At the Embassy event they served, among other things, the traditional Fourth of July Chicken Shawerma.
All in all, it was a pretty good way to spend the Fourth of July, largely among Americans doing their duty; Men and women who give up so much of their freedom, so we can celebrate our freedoms on Independence Day.
On the Secret Decoder Ring Page today: Photos of the four men I talked to; an explanation of shawerma; a Mullfoto of a sign you are not likely see in Alexandria, Virginia and a Catchy Caption of the Day.