RICHMOND, VA – More than 1,000 Republican activists and donors crowded into the Richmond Convention Center's grand ballroom for a state GOP fundraiser and barbeque lunch Wednesday afternoon. The event's primary draw wasn't its host, popular Virginia Gov. Bob McDonnell, or even the generous portions of pulled pork and chicken. No, most of the buzz surrounded the afternoon's featured speaker: Texas Governor and presidential candidate, Rick Perry.
Perry took the stage to an enthusiastic standing ovation from the 2012 battleground state's party faithful. In his fairly brief remarks (he was "very tightly scheduled" today, according to a party handler), the GOP frontrunner sounded familiar campaign themes, attacking President Obama's economic record and trumpeting his accomplishments as Texas's chief executive.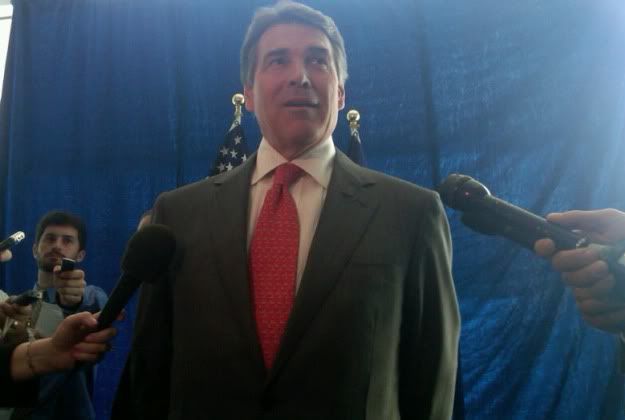 He lit into Obamacare, labeling it the "mother of all regulatory burdens," and pledging to rescind as much of it as possible through executive orders on "day one" of his potential presidency. The 2012 campaign should be about "freedom," Perry argued. "You can't live free when the government takes over one-sixth of the economy" and infringes on "the sanctity of the doctor-patient relationship…and you can't live free if you don't have the dignity of a job," he said.
Perry said he's confident Americans are "getting the message" that President Obama's "job-killing, tax-raising" policies are failing the country. Referring to last night's historic special election results, Perry garnered one of the biggest applause lines of the afternoon by adding, "The voters in New York certainly got the message. I just think that's awesome." He later told reporters that Republican Bob Turner's victory in New York City portends difficult days ahead for the Democratic Party, which is said is "on the ropes."
As for ousting President Obama next year, Perry said Republicans must nominate a candidate "who draws a distinct and clear contrast" with the current administration. He called his GOP rivals "capable," but asserted that his record stands alone among the field. Asked if he was suggesting he'd offer voters a sharper contrast with the president than Mitt Romney would, Perry didn't hold back. "Sure. [Romney] has been a great private sector job creator. He's created jobs all over the world," but when it comes to implementing those principles as Governor of Massachusetts, Romney produced "substantially less than quality work," Perry said.
When a reporter suggested that it might seem premature or presumptuous of Perry to already be training most of his rhetorical fire on his would-be general election opponent, the Texas Governor dissented. He said it's entirely appropriate for him to focus primarily on criticizing Obama, whom many Republicans identify as the problem. Another press question: Would he consider selecting Gov. McDonnell, who is term-limited after 2013, as a running mate? "Now that is thinking too far ahead," Perry quipped.
Perry's campaign has been boosted this week by a pair of significant endorsements from Louisiana Gov. Bobby Jindal and Nevada Gov. Brian Sandoval. Though Perry appeared at today's event as McDonnell's guest, the Virginia Governor's team emphasized that the joint appearance did not represent a presidential blessing. One aide said McDonnell isn't likely to issue any such endorsement until after the upcoming state-level legislative elections in November, if at all. McDonnell did say he was pleased to see several governors in the race, suggesting that he might be leaning towards Perry, Romney, or even former Utah Governor Jon Huntsman.
Naturally, any of the GOP presidential candidates would covet the support of a well- liked governor of a critical swing state. According to a newly released Quinnipiac poll, 61 percent of Virginians approve of McDonnell's performance as governor, a figure that includes two-thirds of independents. Just 21 percent disapprove.
Organizers attributed today's large crowd size to Perry's star power. "We would have been happy with 300 [people]," state party Communications Director Garren Shipley said. "But Perry really turned this into a huge, huge event. When Japanese reporters started calling for credentials, I realized this wasn't just a small luncheon anymore."
Another Virginia GOP official said ticket sales were extremely brisk from the moment the event was announced two weeks ago. "Reaching 1,100 people in 14 days is pretty incredible for us," he said. "The interest was insane." The Perry campaign brought along hundreds of bumper stickers and fliers to the luncheon. They left empty-handed.
Former US Senator George Allen, who is running for the Commonwealth's open Senate seat in 2012, did not attend today's event.