September 28, 2016
IRS Offices Closed in Northern Arizona on Day of Tea Party Protests
Katie Pavlich
5/21/2013 4:08:00 PM - Katie Pavlich
IRS offices in Flagstaff and Prescott, Ariz. were temporarily closed Tuesday as protests of IRS offices around the country were planned by Tea Party activists.
"They have a notice up that says 'temporarily closed," said Tom Case, a Lake Havasu resident.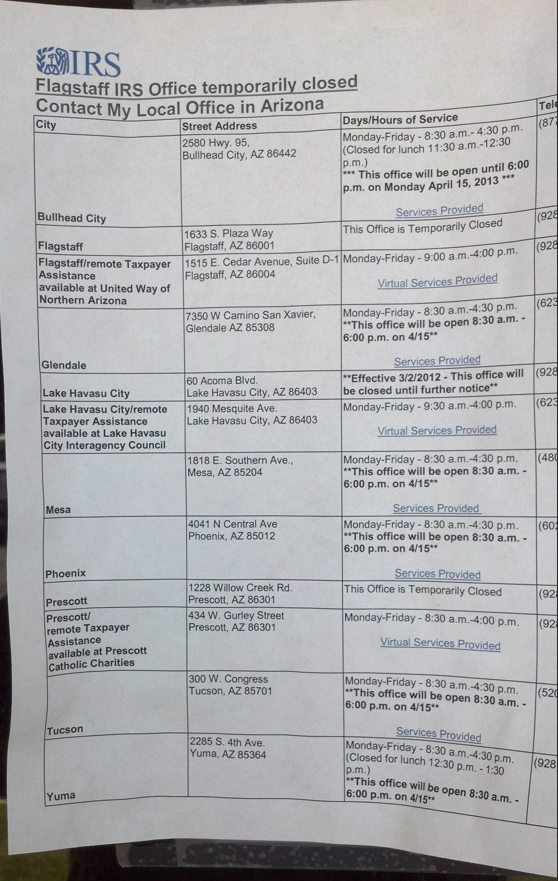 Case drove three hours and 200 miles Tuesday with his wife to participate in the IRS protest of the Flagstaff office, located at 1633 S. Plaza Way. This was going to be Case's first rally.
"I follow the politics of the Tea Party, I'm not necessarily a hardcore tea party person," Case said. "This IRS thing to me is just a total example of an out of control government. Benghazi, the AP, Fast and Furious those are all terrible things that are happening to us but this one at this point is just beyond all reasonable doubt that this Administration and big government in general is just totally out of control and none of the people in charge seem to know what's going on. That bothers me more than anything."
The voicemail message at the Flagstaff office states that the location is open Monday through Friday from 9 a.m. to 4 p.m. and explains IRS closures for all offices on May 24th due to sequestration. The message also explains the office will "resume normal operations the next business day," which would be Monday, May 27. There is no mention of a temporary closing for Tuesday, May 21.
Townhall put in a request with the national IRS office in Washington D.C. for an explanation as to why these offices are closed, how long they have been closed and when they will re-open. Townhall also contacted Bill Brunson in the IRS media relations office for Arizona. At time of publishing, IRS officials did not respond with a comment.