In what will be viewed as another post-sequestration sacrifice, the Transport Security Administration will begin to permit small pocket knives, baseball bats, and other sports equipment onboard commercial flights starting April 25th. TSA head John Pistole defended the administration's decision, explaining the need to reduce banned items and decrease wait times.
Proponents argue that there have been significant changes in air travel since 9/11, including reinforced pilot doors and motivated passengers. Douglas Laird, a former security director of Northwest Air, believes the damage that could be inflicted by a small knife is negligible, in a quote from USA Today:
"I don't recall — other than 9/11 — any incident where anybody did anything with a knife on an airplane or a tennis racquet or a golf club," Laird says. "Most of the disturbances on airplanes involved guys having fist fights — not fist-fighting flight attendants, fist-fighting themselves."
Former TSA Chief Kip Hawley applauded the decision, and made his case for lifting the ban on all sharp weapons. Hawley confirmed that he wasn't exaggerating, and went on to claim:
"They ought to let everything on that is sharp and pointy. Battle axes, machetes ... bring anything you want that is pointy and sharp because while you may be able to commit an act of violence, you will not be able to take over the plane. What are you going to do when you get on board with a battle ax? If you pull out your battle ax and say I'm taking over the airplane. You may be able to cut one or two people, but pretty soon you would be down in the aisle."
Those that oppose the decision acknowledge that while the inclusion of knives won't be detrimental to landing the plane, it will affect the well-being of passengers and flight attendants. The Coalition of Flight Attendant Unions called the TSA's decision "short-sighted" and a threat to undermine aviation security.
TSA officials predict that the measure will save time spent waiting at checkpoints, yet many remain skeptical. A chart created by the administration details the blade sizes that will be allowed on flights, but disputes have arisen in the past between passengers and security over water and gels, knives will be no different. Officials will have to measure blades and conclude that they fall under the 2.36 inch length requirements, negating any positive impact on wait times.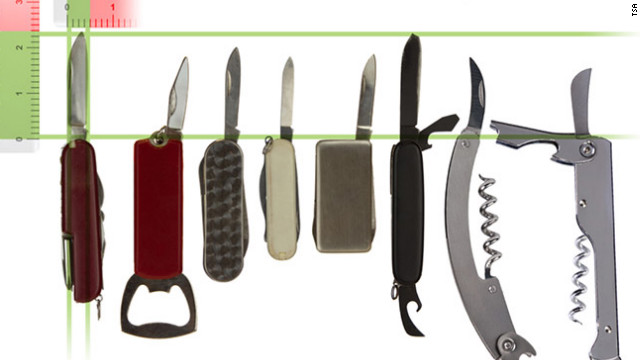 The announcement comes on the heels of Attorney General Eric Holder's statement this week that the sequester will make America "less safe", a puzzling admission in light of this report. Wouldn't allowing knives on flights make American's less safe? Yet another example of the administration threatening U.S. lives in order to prove they're in danger.