Since Conservatives bestow the Saviour identity unto the Ronnie, you're lost on simple logic. More Cons worship Ronnie Raygun than your data-mining for Obama material. NOTW thinks that a painting means Obama commissioned it.
Earlier this week comedian and actor Jamie Foxx called President Obama the "Lord and Savior." Now, a Boston community college art gallery is displaying a painting of Obama being crucified like Jesus on a cross.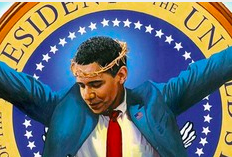 Fox News' Todd Starnes has more:
It was originally supposed to debut nearly four years ago at New York City's Union Square. But that event was cancelled due to public outrage.