Beck just interviewed the guy. Every piece of art he produces attacks the right. It's the usual targets:police, Fox News, Wall Street, etc. It was a good interview and Beck revealed him to be a true ideologue. He would never admit his true intentions for painting the Obama piece. Only that he felt it showed Obama being crucified by the Republicans. Riiiight.
Earlier this week comedian and actor Jamie Foxx called President Obama the "Lord and Savior." Now, a Boston community college art gallery is displaying a painting of Obama being crucified like Jesus on a cross.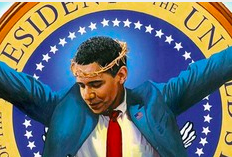 Fox News' Todd Starnes has more:
It was originally supposed to debut nearly four years ago at New York City's Union Square. But that event was cancelled due to public outrage.

Tuesday, December 10 | 03:06 AM ET
Tuesday, December 10 | 03:06 AM ET
Tuesday, December 10 | 03:06 AM ET
Tuesday, December 10 | 03:06 AM ET