They expect you to tell your children that the American people no longer have the will to cope with their problems; that the future will be one of sacrifice and few opportunities. My fellow citizens, I utterly reject that view. The American people, the most generous on earth, who created the highest standard of living, are not going to accept the notion that we can only make a better world for others by moving backwards ourselves. Those who believe we can have no business leading the nation.
Once again, Gallup has asked voters perhaps every pollster's favorite question: Do you think America's best years are behind us, or yet to come? As it happens, the results are rather predictable: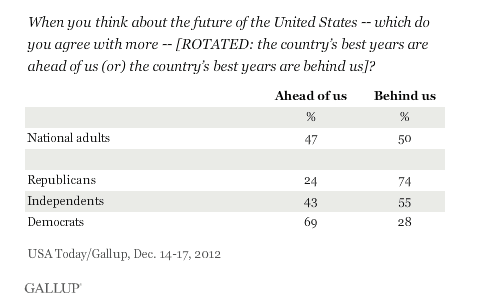 If anything, Gallup's findings underscore one self-evident truth -- that is, the American public is deeply divided on this question along partisan and ideological lines. And it's no mystery why. For their part, conservatives are still grappling with the fact that President Obama won re-election, Obamacare will soon be the law of the land, and the latest so-called "fiscal cliff" compromise...