The artist says that his "First Amendment rights should override someone's hurt feelings," which I fully agree with. Now I'd be itnerested to know if he supports hate crime laws?
Earlier this week comedian and actor Jamie Foxx called President Obama the "Lord and Savior." Now, a Boston community college art gallery is displaying a painting of Obama being crucified like Jesus on a cross.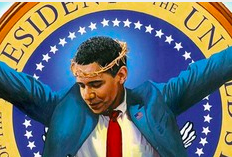 Fox News' Todd Starnes has more:
It was originally supposed to debut nearly four years ago at New York City's Union Square. But that event was cancelled due to public outrage.