Anonymous11565 Wrote: 58 minutes ago (11:41 AM) I propose that after BO is out of office that he be impeached, all rights and benefits abolished and cancelled, all actions purged and declared null and void. I will second that motion, all in favor say YAAAH!
New York Times White House Correspondent Mark Lander took to Twitter yesterday and admitted the number of people attending President Obama's campaign rallies is less than impressive, especially so close to Election Day.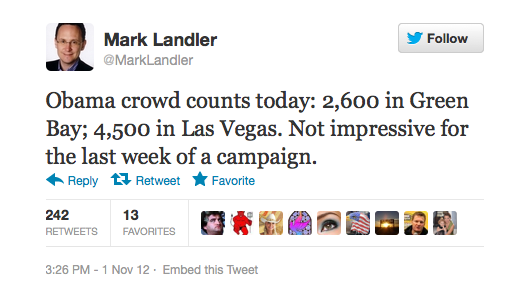 Maybe Obama isn't getting crowds in Las Vegas because of this:
A careless remark by President Barack Obama about Las Vegas has triggered a furious backlash from Nevada's cash-strapped gambling city and a key Democratic ally fighting a tough re-election battle in the...