ProgusParasitus: Regarding your 12:05pm post to me: MY belief is that if Obama manages to gin up a latter-day Helter Skelter, any blacks he incites to become agents of it will be lashing out at, robbing, sodomizing, and killing whites within easiest reach there in the urban core - and thus the great preponderance of such whites will be LIBERALS, since THEY'LL be the lowest-hanging fruit - and will likely NOT, with few exceptions, venture out into the conservative suburbs and hinterlands, where they KNOW the kind of response they'll get and where they will NOT have anyone who will have their back. Think Reginald Denny here.
Stacey Dash is a black actress who first became famous for her role in the classic movie "Clueless." Last weekend she tweeted about her support for GOP Presidential Candidate Mitt Romney. In 2008, she voted for Barack Obama.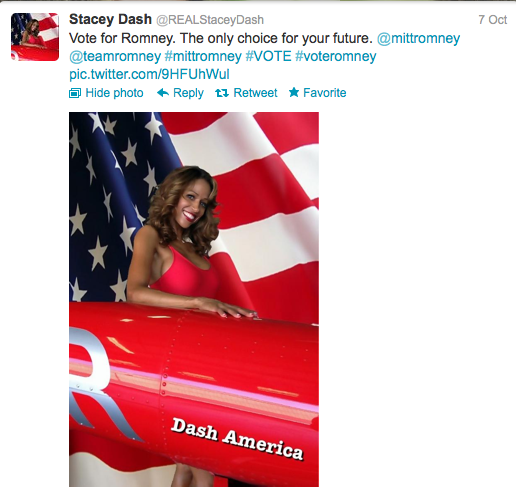 Her tweet set off a firestorm of hate against her. Regardless, she defended her decision to endorse Mitt Romney last night on CNN's Piers Morgan.