ProgusParasitus: Regarding your 11:33am post below: given the fact that Americans have armed themselves as never before during Obama's presidency (I MYSELF am one of many MILLIONS of people who were NEVER gun owners before Obama became president but are NOW) precisely BECAUSE they fear this very possibility and have prepared for it, many blacks that "sign up", so to speak, to be soldiers in this race war are going to find out in the hardest way possible that this is a war they DIDN'T want. But as Moonbat Exterminator commented on this several weeks ago, for many blacks, THEIR participation in the "revolution" will end at the first jewelry/liquor/electronics store they happen upon.
Stacey Dash is a black actress who first became famous for her role in the classic movie "Clueless." Last weekend she tweeted about her support for GOP Presidential Candidate Mitt Romney. In 2008, she voted for Barack Obama.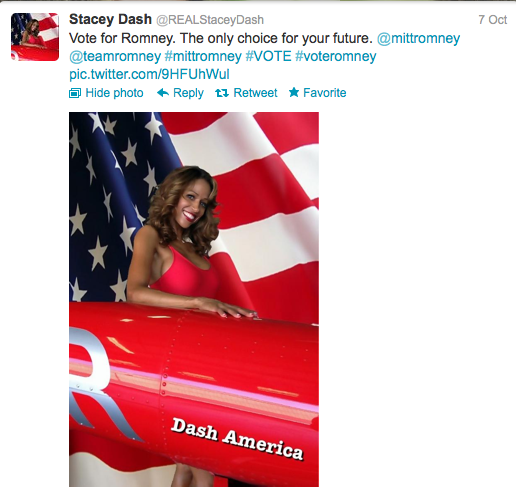 Her tweet set off a firestorm of hate against her. Regardless, she defended her decision to endorse Mitt Romney last night on CNN's Piers Morgan.
Saturday, December 07 | 12:19 AM ET
Saturday, December 07 | 12:19 AM ET
Saturday, December 07 | 12:19 AM ET
Saturday, December 07 | 12:19 AM ET