I did not set out to have a liberal black boyfriend. His views were subtle at first but at as the election season progressed his views became stronger and stronger and eventually progressed to criticisms about my Christianity. I must admit things were great in the beginning. There wasn't such a divide in this country when we first got together. In my opinion thanks to Obama and the left's strategy of race and class division, he became black and I became white. White Christians became the 'bad guy' Everything was blamed on 'Christian right-wingers' (in his words) From the Treyvon Martin case to the shooting at the Sikh temple in Wisconsin. I became offended ALL the time.At the end of the day I am a Conservative White Christian aka 'bad guy'
Stacey Dash is a black actress who first became famous for her role in the classic movie "Clueless." Last weekend she tweeted about her support for GOP Presidential Candidate Mitt Romney. In 2008, she voted for Barack Obama.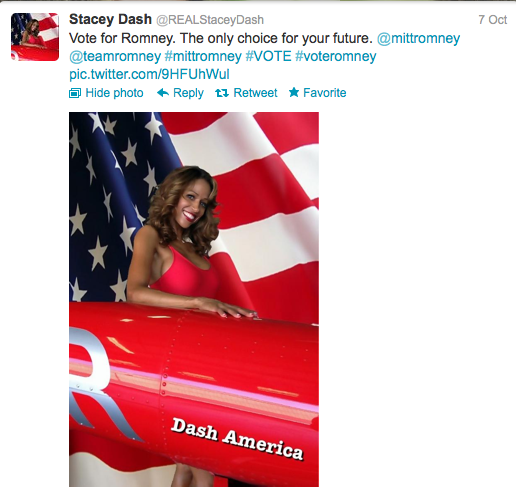 Her tweet set off a firestorm of hate against her. Regardless, she defended her decision to endorse Mitt Romney last night on CNN's Piers Morgan.