The artwork, titled 'Truth,' was due to debut four years ago in New York's Union Square but the exhibition was cancelled due to public outrage. Read more: http://www.dailymail.co.uk/news/article-2239581/Obama-Jesus-painting-slammed-4-years-ago-goes-display-Boston.html#ixzz2DXz5l82N Follow us: @MailOnline on Twitter | DailyMail on Facebook
Earlier this week comedian and actor Jamie Foxx called President Obama the "Lord and Savior." Now, a Boston community college art gallery is displaying a painting of Obama being crucified like Jesus on a cross.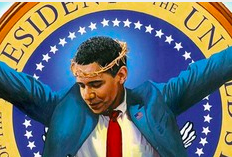 Fox News' Todd Starnes has more:
It was originally supposed to debut nearly four years ago at New York City's Union Square. But that event was cancelled due to public outrage.