I think a case can be made that Barack Hussein Obama has never BEGUN being president. He has simply continued being the agitator that he was trained to be, refusing to actually govern because he doesn't want the bad results of his time "in office" to be attached to him. Obama therefore campaigns against whatever the American people are against, while his minions implement the HIS agenda which is EXACTLY the opposite. That is the Limbaugh Theorem at work.
For the first time in eight years, former President George W. Bush's favorability ratings are no longer underwater, according to a recent Gallup study: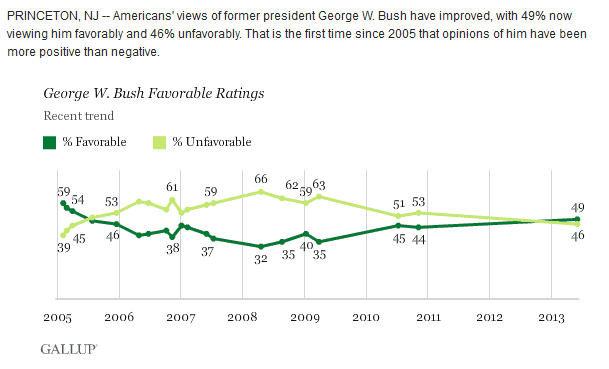 Julian Zelizer, a professor of history at Princeton University, explained why his numbers are slowly rising in a CNN op-ed last Thursday:
The most obvious reason is that the passions for presidents -- both good and bad -- tend to go down after they leave office. Americans turn their attention to the new boss...