Greased the skids. This is way beyond cafeteria bible thumpers but Obama is a pre cursor anti Christ. Whether or not he has specific knowledge of the Man of Perdition, living in the Middle East (who remains unknown to us and unmanifested), isn't relevant. Obama has empowered Muslim terrorist by facilitating their seizure of national armies with real firepower. Israel will be under attack like never before, within 10-20 years. And Jews will be desperate for a false peacemaker. It took a blackened and accursed descendant of Ham to do what the Muslim Brotherhood and Al Qaeda could only have dreamt just a few years back: real terror states. But, let's focus on the mythical fiscal cliff narrative.
Why do we still support the UN?
Despite recent conflict in Gaza, which erupted after Israel decided to no longer tolerate the constant barrage of rocket fire across its border, the UN General Assembly has decided to recognize Palestine as a state. This afternoon, it granted Palestine "non-member observer state" status.
Doing nothing to ease US and Israel's apprehension regarding the vote, UN Secretary General sent out a mistaken tweet urging a one-state solution: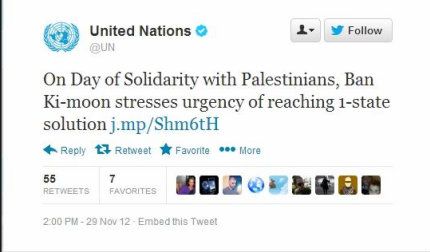 This slip up highlights the tension surrounding the issue. Pushing statehood through the UN will only...