"Graham: Take Ghaith to Gitmo Sens. Lindsey Graham (R-S.C.) and Kelly Ayotte (R-N.H.) criticized the Obama administration on Thursday over reports that an al-Qaeda leader had been brought to New York. According to The New York Times, Osama bin Laden's son-in-law Sulaiman Abu Ghaith was captured and will be in a New York court on Friday. Graham, who supports using Gitmo as a detention center for terrorists, accused the administration of avoiding taking the detainee to Guantanamo Bay at the cost of potential intelligence about future attacks. "To bring this person to New York City, if that's what happened, without letting Congress know is a very bad precedent to set," Graham said.
Let's be honest: Everyone knows McGraham will never see eye-to-eye with Rand Paul on a host of national security issues, from the proper threshold for US military intervention, to the expansiveness of executive powers in wartime. Indeed, when their respective camps square off on any number of questions, I often (though not always) find myself on Team McGraham. But as Katie described earlier, McCain and Graham's sneering performance on the Senate floor today was maddening to witness. Case in point, this dumb infographic: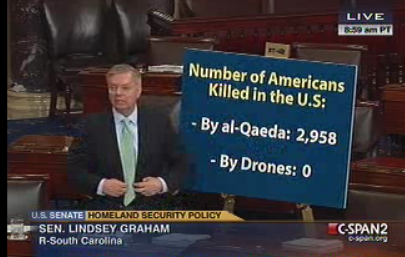 Spare us, Senator. You're...