Where did I say Obama commissioned it? You don't think for me. I said very clearly that people worship Obama like he is a Mesiah. One thing is very clear about Reagan vs Obama... Obama is one of the most narccicistic leaders we have had. It verges, if not crosses over to sociopath. By all means, you want a battle of wits, let's discuss. You'll have to do better than putting words in my mouth. You'll need to use Critical Thinking skills.
Earlier this week comedian and actor Jamie Foxx called President Obama the "Lord and Savior." Now, a Boston community college art gallery is displaying a painting of Obama being crucified like Jesus on a cross.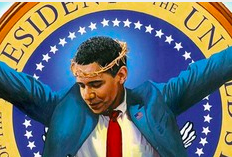 Fox News' Todd Starnes has more:
It was originally supposed to debut nearly four years ago at New York City's Union Square. But that event was cancelled due to public outrage.