LOL, so what exactly have all of you oh so holy keyboard warriors done? (Thoughts, prayer and well wises don't count) An itemized list please. Don't feel too bad, I'm sure 99.9% of Americans who don't live in the affected areas (and a fair number who do) have done nothing yet, just the religious ones are spouting off some hooey about prayers and thoughts so they can make themselves feel superior to those who don't need to tweet about their belief in mythological beings. DB07 and oldervoter68 you suggest the perfectly reasonable and tangible action of hurricane relief, which I and I'm sure many non-religious and religious people will actually give to if there turns out to be severe damage and people in need of relief.
As of Sunday at 6:45 ET, RNC Chairman Reince Priebus had tweeted prayers for those in the path of Hurricane Sandy.
DNC Chairwoman Debbie Wasserman Schultz, didn't do the same.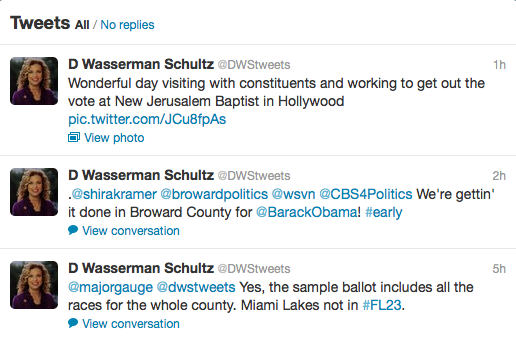 The lack of concern from DWS isn't surprising. After all, she ignored people in her own district facing...