Anti-immigration lobby runs first ad targeting Lindsey Graham The first issue ad of the immigration reform battle hit the airwaves in South Carolina last week, targeting Sen Lindsey Graham, R-SC who is up for reelection in 2014. NumbersUSA, one of the leading groups opposing comprehensive immigration reform paid for the ads. The group, headed by long time advocate Roy Beck, argues that increased immigration will deplete the country's resources, leading to sprawl, congestion and restrictions on individual liberties. reporting.sunlightfoundation.com/2013/anti-immigration-lobby-runs-first-ad-targeting-lindsey-graham "Fake-Phoney-Frauds" McAmnesty and McGrahamnesty are practically-worthless, habitual-lying-anti-USC, pro-Mex-US-traitors !
Let's be honest: Everyone knows McGraham will never see eye-to-eye with Rand Paul on a host of national security issues, from the proper threshold for US military intervention, to the expansiveness of executive powers in wartime. Indeed, when their respective camps square off on any number of questions, I often (though not always) find myself on Team McGraham. But as Katie described earlier, McCain and Graham's sneering performance on the Senate floor today was maddening to witness. Case in point, this dumb infographic: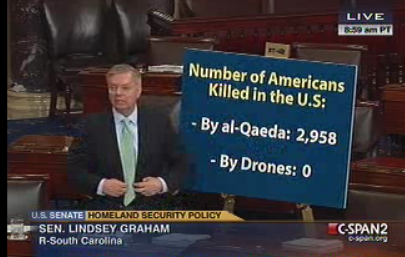 Spare us, Senator. You're...