11-11-09 - SC Sen Lindsey Graham Gets Slammed Back Home The Exec-Cmte Charleston Cnty-Rep-Prty voted unanimously to rebuke Graham: "For many of the positions he's taken that don't represent the wishes of the people of South Carolina, passing a 'cap and trade' energy bill, bailing out banks and granting amnesty for illegal aliens. If he's not going to uphold the R-platform, he should run as a Dem." thecaucus.blogs.nytimes.com/2009/11/11/sc-sen-gets-slammed-back-home 1-5-10 - Lindsey Graham Censured By Another SC-Cnty R-Prty Because of his work with Libs-Dems on immigration, climate change. Graham says he's proud of solving problems by "working across the aisle." huffingtonpost.com/2010/01/05/lindsay-graham-censured-b_n_411496.html
Let's be honest: Everyone knows McGraham will never see eye-to-eye with Rand Paul on a host of national security issues, from the proper threshold for US military intervention, to the expansiveness of executive powers in wartime. Indeed, when their respective camps square off on any number of questions, I often (though not always) find myself on Team McGraham. But as Katie described earlier, McCain and Graham's sneering performance on the Senate floor today was maddening to witness. Case in point, this dumb infographic: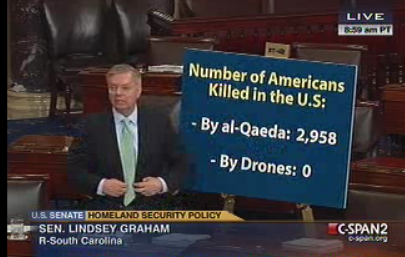 Spare us, Senator. You're...