wellread, You wrote, "So if I create a painting of Bush on the cross, does that mean Bush thinks he's Jesus? Hard to figure out how a Con thinks when there's little room for nuance or logic." Do you ever have a coherent thought? Are you able to read and understand anything? In one fell swoop, you have not only missed the entire point, but you have shown how clearly idiotic your liberal thoughts are. Congratulations!
Earlier this week comedian and actor Jamie Foxx called President Obama the "Lord and Savior." Now, a Boston community college art gallery is displaying a painting of Obama being crucified like Jesus on a cross.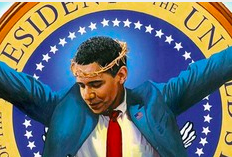 Fox News' Todd Starnes has more:
It was originally supposed to debut nearly four years ago at New York City's Union Square. But that event was cancelled due to public outrage.