MA1454 Wrote: 8 minutes ago (6:30 PM) LONG LIVE PALESTINE. STOP THE CURRENT PALESTINAIN GENOCIDE.......N O W --------------------------- Why is it that Palestinians can live and work peacefully in Israel, get along with Jews and be contributing members of society and yet, Jews can't do the same in Palestine? And stop shouting Prog, we can read in lower case just fine.
Why do we still support the UN?
Despite recent conflict in Gaza, which erupted after Israel decided to no longer tolerate the constant barrage of rocket fire across its border, the UN General Assembly has decided to recognize Palestine as a state. This afternoon, it granted Palestine "non-member observer state" status.
Doing nothing to ease US and Israel's apprehension regarding the vote, UN Secretary General sent out a mistaken tweet urging a one-state solution: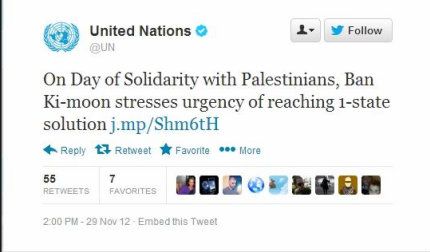 This slip up highlights the tension surrounding the issue. Pushing statehood through the UN will only...