U-6 is up to 14.6% and median family income has dropped about $4300 per yr. I guess we are freed from deciding how to spend all that extra money. Helps us avoid becoming evil rich. Wheu, what a relief. Of course blacks and hispanics missed the mised the affuence bullet even better with unimployment numbers increasing from 13.4 to 14.3% and 9.9 to 10% respectively. Those Dems really take care of their own. If your constituants are "the poor" you must need more poor to have more constituants.
New York Times White House Correspondent Mark Lander took to Twitter yesterday and admitted the number of people attending President Obama's campaign rallies is less than impressive, especially so close to Election Day.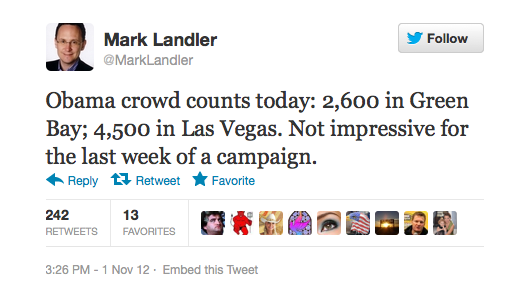 Maybe Obama isn't getting crowds in Las Vegas because of this:
A careless remark by President Barack Obama about Las Vegas has triggered a furious backlash from Nevada's cash-strapped gambling city and a key Democratic ally fighting a tough re-election battle in the...