What an Obamanation! Obama is the opposite of Jesus Christ, he envies, is arrogent, he is bitter, he hates, he bares false witness, he covets his neighbors goods and break the commandments willingly, weee!
Earlier this week comedian and actor Jamie Foxx called President Obama the "Lord and Savior." Now, a Boston community college art gallery is displaying a painting of Obama being crucified like Jesus on a cross.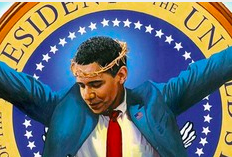 Fox News' Todd Starnes has more:
It was originally supposed to debut nearly four years ago at New York City's Union Square. But that event was cancelled due to public outrage.