Texas Chris, It is intellectually lazy to group everyone in the same boat. I think Bush was corrupt and sold us out, but no where near Clinton or Obama did. You can't compare anything to the Daley Machine unless it is the Detroit political machine or a 3rd World country. Now whether morally Bush was more corrupt than the Daley Machine I can't argue. But I can definitely argue the press was against him so even if he was morally just as bad as the Daley Machine he could not get away with half the stuff the Daley Machine did...therefore he's better than the Daley Machine.
For the first time in eight years, former President George W. Bush's favorability ratings are no longer underwater, according to a recent Gallup study: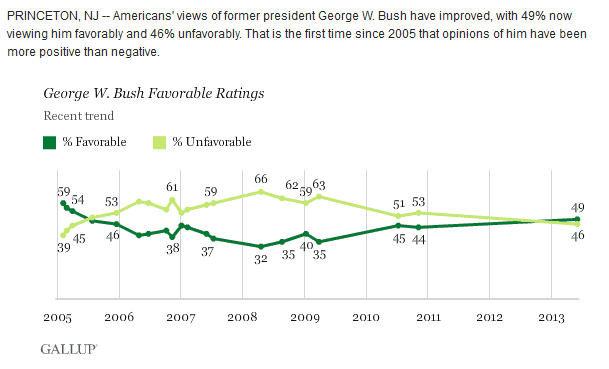 Julian Zelizer, a professor of history at Princeton University, explained why his numbers are slowly rising in a CNN op-ed last Thursday:
The most obvious reason is that the passions for presidents -- both good and bad -- tend to go down after they leave office. Americans turn their attention to the new boss...