Laugh now all ye liberals because you won't be laughing on Judgement Day. It is obvious with the recent election results that many believed as Jamie Foxx does, however, it is sad though, because Obama has only the power that people give over to him, Jesus HAS All the power. That is what I hold on to every day. I encourage everyone to read the book of Revelation.
Earlier this week comedian and actor Jamie Foxx called President Obama the "Lord and Savior." Now, a Boston community college art gallery is displaying a painting of Obama being crucified like Jesus on a cross.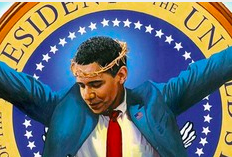 Fox News' Todd Starnes has more:
It was originally supposed to debut nearly four years ago at New York City's Union Square. But that event was cancelled due to public outrage.

Friday, May 24 | 02:16 AM ET
Friday, May 24 | 02:16 AM ET
Friday, May 24 | 02:16 AM ET
Friday, May 24 | 02:16 AM ET