Or allow the teaching of Muslim prayer in schools, but making sure that a Christian prayer cannot be allowed in class, or at a sporting event. Remember the high school that changed its football practice hours to accomodate those students observing Ramandan.
Earlier this week comedian and actor Jamie Foxx called President Obama the "Lord and Savior." Now, a Boston community college art gallery is displaying a painting of Obama being crucified like Jesus on a cross.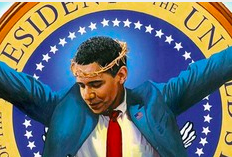 Fox News' Todd Starnes has more:
It was originally supposed to debut nearly four years ago at New York City's Union Square. But that event was cancelled due to public outrage.