Murty is right-business is business. We deal with all kinds of people all the time in business, and we don't have to agree on everything in order to do business. That is a key difference in philosophies-conservatives accept the fact that some businesses have other viewpoints, as is their right. The left, however, seems to always push the panic button and threaten boycotts when a business has a conservative bent. Odd that the supposed party of Freedom and Tolerance is always first in line to squelch both.
Ross Murty built his business, and he wanted President Obama to know. So he wore this shirt while catering an event for the president: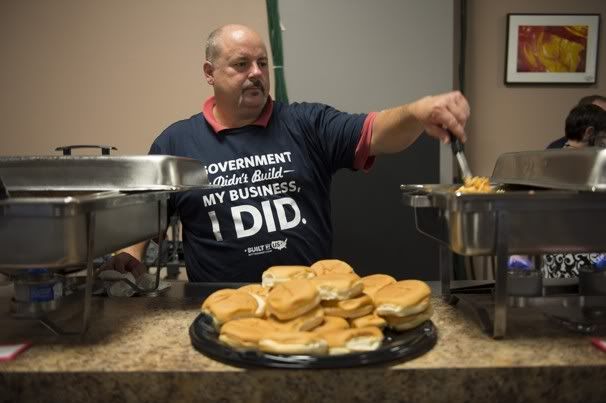 Wearing a Romney shirt to a job for Obama? That takes some guts!
"No one from the government was there when we were sweating it, when we were building this business," Murty said. Before him was a bank of chafing dishes filled with smoked beef brisket, pulled pork, vegetable parmesan bake and cheesy hash brown casserole provided...