The West Bank and the PA have stayed out of conflicts with Israel while pursuing nationalism. Their land continues to be annexed by Israeli settlers regardless. The Israeli solution is increasingly looking like a 1 state solution with a permanent unrecognized underclass of people isolated in enclaves at their mercy.
Why do we still support the UN?
Despite recent conflict in Gaza, which erupted after Israel decided to no longer tolerate the constant barrage of rocket fire across its border, the UN General Assembly has decided to recognize Palestine as a state. This afternoon, it granted Palestine "non-member observer state" status.
Doing nothing to ease US and Israel's apprehension regarding the vote, UN Secretary General sent out a mistaken tweet urging a one-state solution: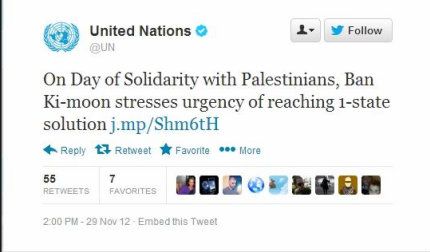 This slip up highlights the tension surrounding the issue. Pushing statehood through the UN will only...