Obama Fraud ! Who Really Wrote DFMF ? Gold saw the complementary value, however, in text analysis, as did Juola, who encouraged me "to do what you're already doing good old-fashioned literary detective work." Given that advice, I dug deeper into both memoirs, est 1 metaphoric thread that ties the 2 books together in a way I believe is just shy of conclusive. It leads back to Bill Ayers's stint, after dropping out of college, as a merchant seaman. "I'd thought that when I signed on that I might write an American novel about a young man at sea," says Ayers in his memoir, Fugitive Days, "but I didn't have it in me." The exp had a powerful impact on Ayers. Years later, he'd recall a nightmare he had while crossing the Atlantic, "a vision
Earlier this week comedian and actor Jamie Foxx called President Obama the "Lord and Savior." Now, a Boston community college art gallery is displaying a painting of Obama being crucified like Jesus on a cross.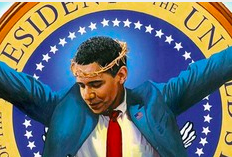 Fox News' Todd Starnes has more:
It was originally supposed to debut nearly four years ago at New York City's Union Square. But that event was cancelled due to public outrage.

Friday, December 20 | 07:04 AM ET
Friday, December 20 | 07:04 AM ET
Friday, December 20 | 07:04 AM ET
Friday, December 20 | 07:04 AM ET