I think "pissobama" is one of, if not, the highest form of artistic expression! Simple but powerful. Understated elegance. Tragic yet, inspiring. Sublime beauty. It incorporates all that's necessary to be considered one of the most majestic pieces of art ever produced. Isn't it wonderful that we live in a country that allows this to happen. I've never been proud of my country until this day! I stand in awe!
Earlier this week comedian and actor Jamie Foxx called President Obama the "Lord and Savior." Now, a Boston community college art gallery is displaying a painting of Obama being crucified like Jesus on a cross.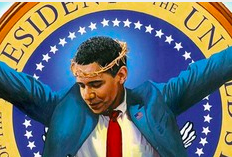 Fox News' Todd Starnes has more:
It was originally supposed to debut nearly four years ago at New York City's Union Square. But that event was cancelled due to public outrage.