I'm sorry, I thought you were a really funny sarcastic individual.. Now I see you are just another sad excuse for a human being who is delusional and probably skipping your meds. There has never been an election where more Liberals spent more time lying and hiding from reality and the truth than this one. The inability to recognize a complete failure of a president when there is overwhelming evidence that he is just too inept to handle the position is a sign of a serious mental disorder, and I hope you get help before it causes you serious harm. May God help you.
New York Times White House Correspondent Mark Lander took to Twitter yesterday and admitted the number of people attending President Obama's campaign rallies is less than impressive, especially so close to Election Day.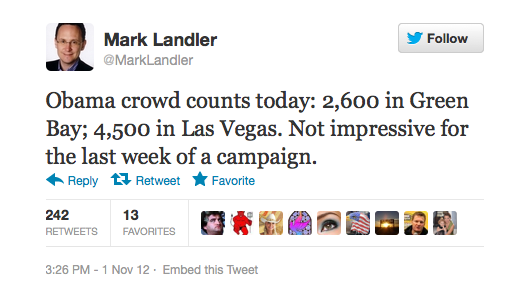 Maybe Obama isn't getting crowds in Las Vegas because of this:
A careless remark by President Barack Obama about Las Vegas has triggered a furious backlash from Nevada's cash-strapped gambling city and a key Democratic ally fighting a tough re-election battle in the...