Actually, I'm kind of enjoying this. It is amazing to me the caliber of people that liberals elevate. You take a guy who was a community organizer, ran for state senate and did NOTHING notable there, ran for U.S. Senate and did EVEN LESS of NOTE there, and cannot think straight without a scripted speech and a TelePrompter -- and you elevate him to godlike proportions. Brainless, clueless, beyond all hope....
Earlier this week comedian and actor Jamie Foxx called President Obama the "Lord and Savior." Now, a Boston community college art gallery is displaying a painting of Obama being crucified like Jesus on a cross.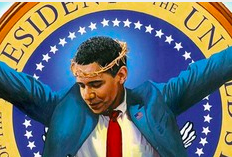 Fox News' Todd Starnes has more:
It was originally supposed to debut nearly four years ago at New York City's Union Square. But that event was cancelled due to public outrage.