Why is it a problem Palestinians have access to the court. If Israel is innocent it has nothing to worry about. Their effort to do everything they can to keep Palestine from having a voice actually makes Israel look guilty. If they don't have a case against Israel then nothing will come of it. This will give them an oppurtunity to express greivences they have. Maybe the extremists among them won't laucnch rockets at Israel if they see they are finally being listened to. Maybe not, I don't know. But this much I do know. Continuing to silence them will only add fuel to the fire.
Why do we still support the UN?
Despite recent conflict in Gaza, which erupted after Israel decided to no longer tolerate the constant barrage of rocket fire across its border, the UN General Assembly has decided to recognize Palestine as a state. This afternoon, it granted Palestine "non-member observer state" status.
Doing nothing to ease US and Israel's apprehension regarding the vote, UN Secretary General sent out a mistaken tweet urging a one-state solution: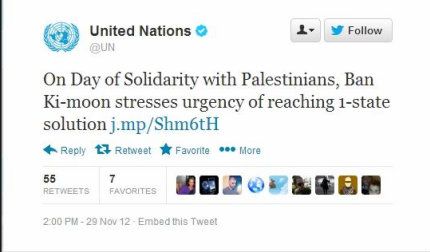 This slip up highlights the tension surrounding the issue. Pushing statehood through the UN will only...