Here is the fallacy of all those members of the government bureaucracy, at all levels, municipal, state and federal, who think that they are members of the "middle-class". They are not "middle-class", they are "government bureaucrats", they are compensated from government coffers that members of the true middle-class, those of us in the private sector who pay into government coffers via taxes. Funny thing, they say that they pay taxes too, from their compensation. The truth is that government bureaucrats pay their taxes from OUR tax monies. In short, THEY do not pay taxes, it is WE, the members of the private sector that, in the end, pay their taxes!!! Members of government-funded educational community, fall into that group!!!
According to a new Gallup poll, the vast majority of Democrats believe the government doesn't do enough.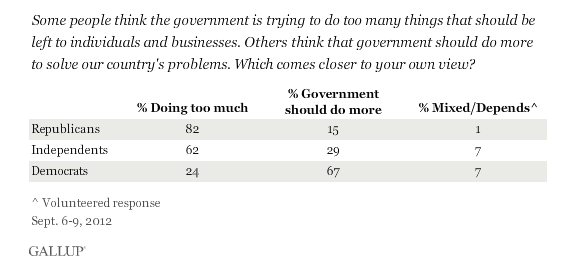 This viewpoint is out of touch with the majority of Americans, who believe government is too big, has too much power and overreaches too often.
A majority of Americans (54%) continue to believe the government is trying to do too many things that should be left to individuals and businesses, although that is down from the record high of 61% earlier this summer. About four in...