Palestine.Those Palestinians and Philistines are the same folks,right ? No ? Syrians,huh.Then why doesn't the United Nations call it Syria ? Oh.There is already a Syria.Would it be cheaper to put them all on the Greyhound,and send them back ? To Syria ( The old one.).Good idea.The terrorists will have to get Iran to give them more powerful rockets.Get that done,we could steal them all and shoot them from above the beach on the 4th of July. Validate your 2nd Amendment Rights.Carry.
Why do we still support the UN?
Despite recent conflict in Gaza, which erupted after Israel decided to no longer tolerate the constant barrage of rocket fire across its border, the UN General Assembly has decided to recognize Palestine as a state. This afternoon, it granted Palestine "non-member observer state" status.
Doing nothing to ease US and Israel's apprehension regarding the vote, UN Secretary General sent out a mistaken tweet urging a one-state solution: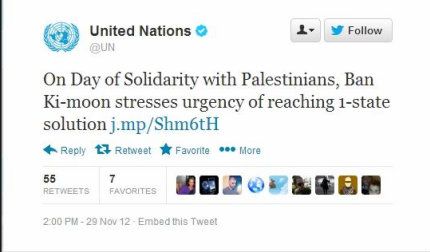 This slip up highlights the tension surrounding the issue. Pushing statehood through the UN will only...