Funny how this so called artist professes his right to the freedom of speech when Christ is mocked; however, the same man that he deified stated that no man is worthy to live who blasphemes the Name of Allah.
Earlier this week comedian and actor Jamie Foxx called President Obama the "Lord and Savior." Now, a Boston community college art gallery is displaying a painting of Obama being crucified like Jesus on a cross.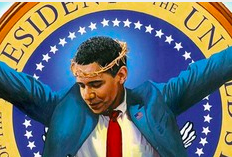 Fox News' Todd Starnes has more:
It was originally supposed to debut nearly four years ago at New York City's Union Square. But that event was cancelled due to public outrage.

Wednesday, December 18 | 05:17 AM ET
Wednesday, December 18 | 05:17 AM ET
Wednesday, December 18 | 05:17 AM ET
Wednesday, December 18 | 05:17 AM ET