* The illegality of the barrier under international human rights law. In this context, the court stated unequivocally, and contrary to the position held by Israel, that international human rights law applies in its entirety in occupied territory, along with humanitarian law. The court ruled that the separation barrier violates rights set forth in conventions to which Israel is party. The court mentioned the rights to freedom of movement and the right against invasion of privacy of home and family, which are enshrined in Articles 12 and 17 of the International Covenant on Civil and Political Rights, and the right to work, to an adequate standard of liv-ing, health, and education, which are enshrined in Articles 6, 11, 12, and 13 of the Inter
Why do we still support the UN?
Despite recent conflict in Gaza, which erupted after Israel decided to no longer tolerate the constant barrage of rocket fire across its border, the UN General Assembly has decided to recognize Palestine as a state. This afternoon, it granted Palestine "non-member observer state" status.
Doing nothing to ease US and Israel's apprehension regarding the vote, UN Secretary General sent out a mistaken tweet urging a one-state solution: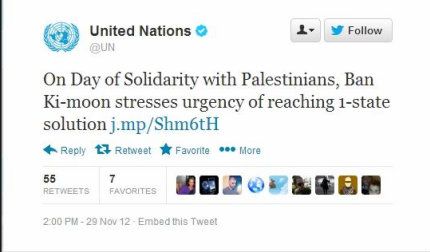 This slip up highlights the tension surrounding the issue. Pushing statehood through the UN will only...