*** Resolution 694 (1991) - BINDING Adopted by the Security Council at its 2989th meeting on 24 May 1991 The Security Council, Reaffirming its resolution 681 (1990), Having learned with deep concern and consternation that Israel has, in violation of its obliga-tions under the Fourth Geneva Convention of 1949, and acting in opposition to relevant Security Council resolutions, and to the detriment of efforts to achieve a comprehensive, just and lasting peace in the Middle East, deported four Palestinian civilians on 18 May 1991, Declares that the action of the Israeli authorities of deporting four Palestinians on 18 May is in violation of the Fourth Geneva Convention of 1949, which is applicable to all the Palestinian territories...
Why do we still support the UN?
Despite recent conflict in Gaza, which erupted after Israel decided to no longer tolerate the constant barrage of rocket fire across its border, the UN General Assembly has decided to recognize Palestine as a state. This afternoon, it granted Palestine "non-member observer state" status.
Doing nothing to ease US and Israel's apprehension regarding the vote, UN Secretary General sent out a mistaken tweet urging a one-state solution: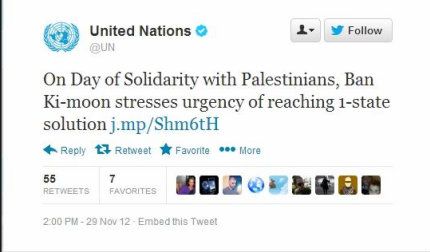 This slip up highlights the tension surrounding the issue. Pushing statehood through the UN will only...