*** UN Security Council Resolution 478 of 20 August 1980 - BINDING The Security Council, recalling its resolution 476 (1980); reaffirming the acquisition of territory by force is inadmissible; deeply concerned over the enactment of a "basic law" in the Knesset proclaiming a change in the character and status of Jerusalem, with its implications for peace and security; noting that Israel has not complied with resolution 476 (1980); reaffirming its determination to examine practical ways and means, in accordance with the relevant provisions of the Charter of the UN, to secure the full implementation of its resolution 476 (1980), in the event of non-compliance. http://unispal.un.org/UNISPAL.NSF/0/DDE590C6FF232007852560DF0065FDDB
Why do we still support the UN?
Despite recent conflict in Gaza, which erupted after Israel decided to no longer tolerate the constant barrage of rocket fire across its border, the UN General Assembly has decided to recognize Palestine as a state. This afternoon, it granted Palestine "non-member observer state" status.
Doing nothing to ease US and Israel's apprehension regarding the vote, UN Secretary General sent out a mistaken tweet urging a one-state solution: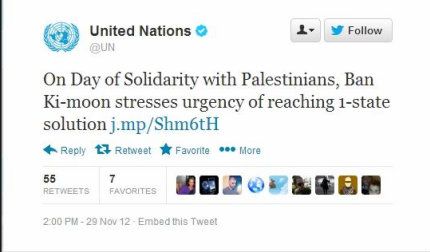 This slip up highlights the tension surrounding the issue. Pushing statehood through the UN will only...