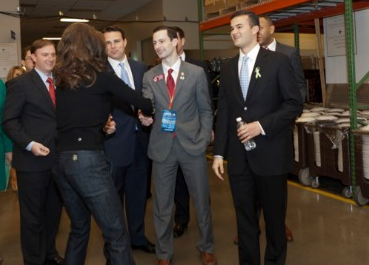 As we all are very busy with our daily lives, it is possible for you not to have seen or read about the various events hosted by different grassroots groups and attended by Gov. Palin. Please see the enclosed pictures. Again, free of charge:
"As a working mother in political journalism," you surely can appreciate the busy schedule of a fellow working mother. Work and family obligations, including raising a son with Down Syndrome who has scheduled therapies, make for a tight schedule which is why Governor Palin had to catch a flight fairly quickly after her time at CPAC.
In light of your disappointment this past weekend, we have submitted some dates and locations for upcoming events where Gov. Palin will be speaking. We missed you at our previous engagements. We'd certainly love to have you in attendance. We realize that your studio obligations make it difficult for you to travel, but hopefully you can find the time to join us in the field.
On behalf of the grassroots community at Conservatives4Palin.com,
Cordially Yours,
Michelle McCormick
C4P Contributor