Editor's Note: Jerry Newberry, Communications Director for the Veterans of Foreign Wars, is currently embedded with the troops in Afghanistan.
We as a people need to know about the heroes who are fighting our wars. The honest-to-God heroes, not the phony, overpaid over-hyped and too oft-publicized types.
You know the kind I mean.
The heroes I'm talking about are ordinary people under most circumstances but end up doing extraordinary things because they are suddenly thrust into extraordinary circumstances.
War is one of those circumstances.
Doing appropriate justice to real heroes is a high mark to try and reach. How do you adequately convey their remarkable stories in a way that serves them - and the memory of their sacrifices - suitably well? After all, it's not just the moment in time when the event, the act, actually occurred that is important, or even the deed itself. The essence of the story and the deed lies instead with the person behind the act.
So this is my attempt at telling you the story of an American hero.
Corporal Angelo J. Vaccaro had finally found his place in life in the Army, and as a senior line medic, with the 1-32 infantry, 10th Mountain Division.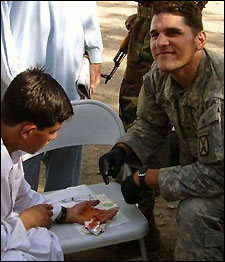 It wasn't always like that for Angelo. Born in the Bronx, and as that borough sometimes requires, he became a tough and street-savvy kid. He didn't live his entire life in the "B", however. The Vaccaro family - Mom, Dad and 5 siblings - eventually moved south to Miami.
The streets of Miami suited Angelo just as well, and predictably, he fell in with the wrong crowd, doing some things he later "wasn't very proud of." Whatever sins he perceived himself to have committed weighed heavily on his mind. Unlike some of the punks he ran with, the kid from the Bronx-Nuvo Miami had a conscience after all - the values instilled and the lessons learned primarily by the grace and wisdom of his mother weren't forgotten: "Always do the right things in life."
Angelo was tired of his life going nowhere. Working at Wal-Mart as a stock-boy wasn't cutting it. He yearned for something better.
So he made a decision. He enlisted in the United States Army "to turn his life around... to save himself." He opted for training in the medical field. After basic training and AIT at Ft. Jackson, South Carolina, he was assigned to 1-32 Infantry, 10th Mountain Division, as Attack Company's 3rd platoon line medic.