"The decline, demise, and death of America's manufacturing sector has been greatly exaggerated," says economist Mark J. Perry, a visiting scholar at the American Enterprise Institute in Washington. "America still makes a ton of stuff, and we make more of it now than ever before in history." In fact, Americans manufactured more goods in 2009 than the Japanese, Germans, British, and Italians -- combined.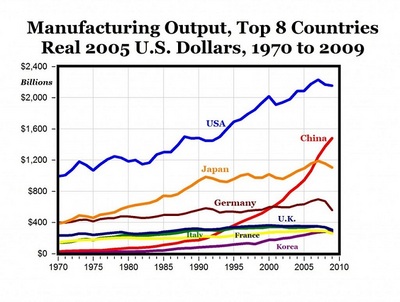 The death of America's manufacturing sector? Not by a long shot. (UN data, via Mark J. Perry)
American manufacturing output hits a new high almost every year. US industries are powerhouses of production: Measured in constant dollars, America's manufacturing output today is more than double what it was in the early 1970s.
So why do so many Americans fear that the Chinese are eating our lunch?
Part of the reason is that fewer Americans work in factories. Millions of industrial jobs have vanished in recent decades, and there is no getting around the hardship that has meant for many families. But factory employment has declined because factory productivity has so dramatically skyrocketed: Revolutions in technology enable an American worker today to produce far more than his counterpart did a generation ago. Consequently, even as America's manufacturing sector outproduces every other country on earth, millions of young Americans can aspire to become not factory hands or assembly workers, but doctors and lawyers, architects and engineers.
Perceptions also feed the gloom and doom. In its story on Americans' economic anxiety, National Journal quotes a Florida teacher who says, "It seems like everything I pick up says 'Made in China' on it." To someone shopping for toys, shoes, or sporting equipment, it often can seem that way. But that's because Chinese factories tend to specialize in low-tech, labor-intensive goods -- items that typically don't require the more advanced and sophisticated manufacturing capabilities of modern American plants.
A vast amount of "stuff" is still made in the USA, albeit not the inexpensive consumer goods that fill the shelves in Target or Walgreen's. American factories make fighter jets and air conditioners, automobiles and pharmaceuticals, industrial lathes and semiconductors. Not the sort of things on your weekly shopping list? Maybe not. But that doesn't change economic reality. They may have "clos[ed] down the textile mill across the railroad tracks." But America's manufacturing glory is far from a thing of the past.